Nashville Home Inspectors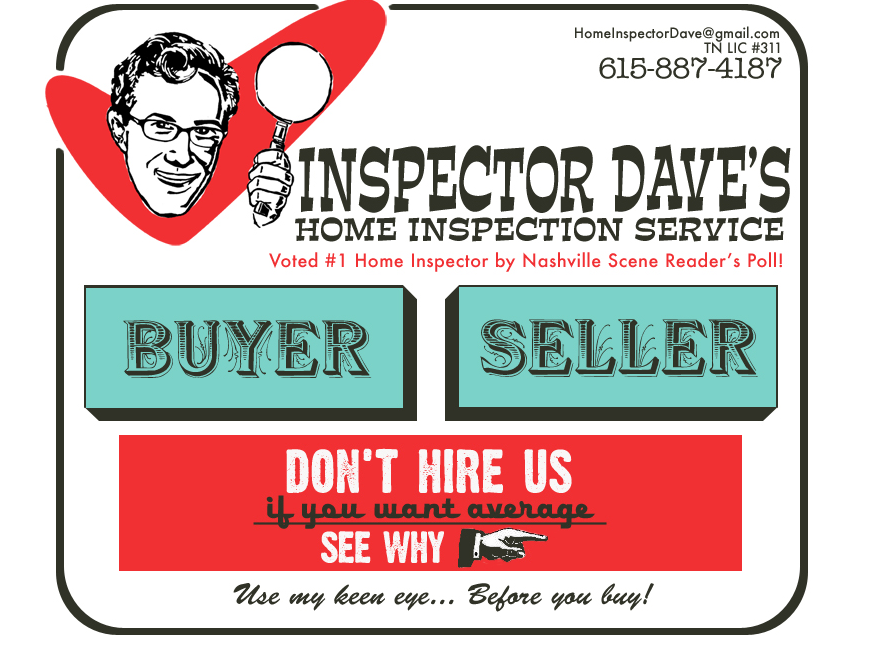 *from www.nashvillehomeinspector.com
When you are about to buy a home there is one thing that is very important to do... get a home inspection. Home inspections are the perfect way to make sure that the home you are about to buy is in peak condition. They are great for multiple reasons including identifying items that may need to be replaced, to evaluate the physical condition of the structure, construction and mechanical systems, and to estimate the remaining life of the systems such as electrical, heating, plumbing, and air conditioning. These are only a few examples of the ways home inspections help you as a buyer.

Another important thing to consider is that you, as a home buyer, have a right to choose your own home inspector. In fact, you should research your inspector before choosing them. We encourage you to go with an inspector that you feel comfortable with, one who will represent your needs and provide you the quality inspection that you deserve.
---
*from www.premierinspectiontn.com
Buying a new home is probably the biggest investment you'll ever make. There is always considerable risk involved when making such a large purchase decision. A professional inspection will significantly reduce your risk and help make the entire home buying process easier and less stressful. The inspector will point out area that need attention and explain them to you. The inspector will show you the good points of the house as well. We will also explain what routine maintenance is needed to keep the house in top condition. You'll get a comprehensive report the same day that is easy to understand. Everything identified during the inspection will be included in the report. Armed with the information our report will provide, you can make your home buying decision with confidence.
Testimonials
" TJ was nothing short of amazing throughout the entire process! He is extremely knowledgeable and personable, as well as attentive to his clients. TJ handled every situation with professionalism, was timely in responding to any requests/questions, and provided impeccable advice to me as a first time home buyer. He treats you like family and I wouldn't recommend anyone else! Exceptional experience "
- Jess Salley
" I can honestly say I would not have found the home of my dreams without T.J. Anderson! I bought my home last fall and he was incredibly patient, knowledgeable and made me completely comfortable throughout the entire process. He handpicked the house of my dreams and despite it having several other offers on the table he worked his magic to make it mine. I cannot say enough great things about him! I would tell anyone looking for the right agent to either buy or sell a home to work with him...you will not be disappointed. "
- M. Lafevor
" T.J. is truly one of Nashville's best realtors. He knows Nashville inside and out, not only his own neighborhood of East Nashville, but Belle Meade, Brentwood, 12th South, West End. He is dedicated to finding his clients the best home for their own lifestyle, or to get the best offer for a listing, and he works hard for each and every person or family. Whether you're relocating to Nashville or within Nashville, you will enjoy working with T.J. Anderson and be thrilled with your new home! "
- K. Novosel
" My fiance and I are a first-time home buyers and T.J. Anderson was the first realtor we met and started working with. He is very knowledgeable of the area that we were looking to buy a home in. He was very accommodating to our busy work schedules and never made us feel like we were "pestering" him when we asked about a home or to go view a home. He put us at ease and explained the process to us well. I highly recommend him and would definitely work with him again either as a seller or buyer. "
- Jason Galaz
Previous
Next